Who's got two thumbs and is posting this on time? This girl. Looking back over this list, I've read a lot of memoirs this fall, which is unusual for me. I've also read books that aren't on this list (some were good, some were meh, some I'm still not sure of my feelings for… Siracusa, for one), but these are the top five best books I read this fall:
---
Where Am I Now? by Mara Wilson
Mara Wilson has always felt a little young and a little out of place: as the only child on a film set full of adults, the first daughter in a house full of boys, the sole clinically depressed member of the cheerleading squad, a valley girl in New York and a neurotic in California, and one of the few former child actors who has never been in jail or rehab. Tackling everything from how she first learned about sex on the set of Melrose Place, to losing her mother at a young age, to getting her first kiss (or was it kisses?) on a celebrity canoe trip, to not being "cute" enough to make it in Hollywood, these essays tell the story of one young woman's journey from accidental fame to relative (but happy) obscurity. But they also illuminate a universal struggle: learning to accept yourself, and figuring out who you are and where you belong. Exquisitely crafted, revelatory, and full of the crack comic timing that has made Mara Wilson a sought-after live storyteller and Twitter star, Where Am I Now?introduces a witty, perceptive, and refreshingly candid new literary voice.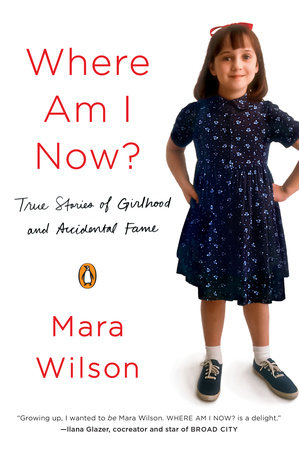 Due to a weird ordering mistake by me, even though I pre-ordered this one weeks in advance, it came super late! So, since I was jumping at the bit to read it, I got the audio version, and it was such a good idea. Mara Wilson has a great reading voice (hence, her voice acting work on Welcome to Night Vale) and narrated the book wonderfully. I loved hearing her stories from behind the scenes of Matilda, obviously (the stories about Danny DeVito were especially lovely), but her essays about growing up and moving to New York; struggling with depression, anxiety, and OCD; and learning to become her own person really shone more than anything else. I loved this book, so I'm looking forward to re-reading it as a physical copy!
---
Buffering: Unshared Tales of a Life Fully Loaded by Hannah Hart
The wildly popular YouTube personality and author of the New York Times bestseller My Drunk Kitchen is back!
This time, she's stirring up memories and tales from her past. By combing through the journals that Hannah has kept for much of her life, this collection of narrative essays deliver a fuller picture of her life, her experiences, and the things she's figured out about family, faith, love, sexuality, self-worth, friendship and fame. Revealing what makes Hannah tick, this sometimes cringe-worthy, poignant collection of stories is sure to deliver plenty of Hannah's wit and wisdom, and hopefully encourage you to try your hand at practicing reckless optimism.
I've watched Hannah Hart's YouTube videos, followed her on social media, and seen all of her movies. Maybe it's the millennial in me, but I thought I pretty much knew who Hannah Hart is– which totally turned out not to be the case when I read her book. (Talk about imagining people complexly…) In this memoir, Hart tackles so many big, important, sometimes even scary issues: mental illnesses, homelessness, sexuality, etc. Her writing is so beautiful (and get a load of that cover! I love it!) and so incredibly heartfelt that I loved this book immediately. Her bravery in honestly tackling these issues and telling her story is commendable, and I'd definitely recommend this book, especially to young people who are struggling with Big Life Issues, or just trying to figure things out.
---
Talking As Fast As I Can by Lauren Graham
In this collection of personal essays, the beloved star of Gilmore Girls and Parenthood reveals stories about life, love, and working as a woman in Hollywood—along with behind-the-scenes dispatches from the set of the new Gilmore Girls, where she plays the fast-talking Lorelai Gilmore once again.
I just finished reading this one, and I basically inhaled it. Like many, many others, I love Gilmore Girls. I grew up aspiring to be like Rory (minus some of the poor decisions she makes in later seasons…), and since I was at such an impressionable age when I watched it, I almost felt as though Lorelai was, just a little bit, my mother too. So when I found out that Netflix was not only dropping the new season two days after my birthday (I'm assuming they had me in mind when they made the announcement) and this book was coming out right after, I was ecstatic. And this book is so quintessentially Lauren Graham (at least, based on what I've seen of her in interviews…). Her voice is so strong throughout the pages that you'll feel like you're having a conversation with her. I've also heard the audiobook is awesome (might have to put that on my wishlist!). I laughed, I cried, I grinned happily at each page.
---
Promise of Shadows by Justina Ireland
Zephyr Mourning has never been very good at being a Harpy. She'd rather watch reality TV than learn forty-seven ways to kill a man, and she pretty much sucks at wielding magic. Zephyr was ready for a future pretending to be a normal human instead of a half-god assassin. But all that changes when her sister is murdered—and she uses a forbidden dark power to save herself from the same fate.
Zephyr is on the run from a punishment worse than death when an unexpected reunion with a childhood friend (a surprisingly HOT friend) changes everything. Because it seems like Zephyr might just be the Nyx, a dark goddess made flesh that is prophesied to change the power balance. For hundreds of years the half-gods have lived in fear, and Zephyr is supposed to change that.
But how is she supposed to save everyone when she can't even save herself?
I'm a mythology nerd, so this description was right up my alley. Technically this isn't a new release, but it was recommended so much to me I had to pick it up. I think the storyline might have worked a little better as a trilogy– it seemed a bit rushed to me and I would have liked the characters to have been a bit more fleshed out– but I loved this interpretation of harpies and their lifestyle and the lengths to which a girl would go in order to save her sister (Frozen who?). I loved Zephyr as a protagonist; she's unsure about her role as a hero, but she has these moments of complete badassery that gave me shivers. It made me want to get back into YA again, so if you know a young adult who loves history and mythology, definitely check this one out.
---
And our overall winner…
The Mothers by Brit Bennett
A dazzling debut novel from an exciting new voice, The Mothers is a surprising story about young love, a big secret in a small community—and the things that ultimately haunt us most. Set within a contemporary black community in Southern California, Brit Bennett's mesmerizing first novel is an emotionally perceptive story about community, love, and ambition. It begins with a secret.
I burst into tears as soon as I finished this book. There's a reason it is getting so much attention, especially because this is the author's debut novel! The lyricism and voice in this novel is so, so beautiful and I felt myself desperately wanting to get to know (and take care of) many of these characters. I was surprised to find out just how much of Nadia's life this book covers; based on the description, I thought it would stay focused on her teenage years. Typically I don't like it when books cover so much time, but in this case it completely works. The novel is interwoven with chapters by "The Mothers," reminiscent of a Greek chorus, and it gives the book an extra something. And, once again, LOOK AT THIS COVER. I'm so jealous of everyone that got free The Mothers tote bags from Riverhead (if you're reading this, Riverhead… I'll totally take a tote bag if you've got extras). Definitely, definitely read this one. I'm looking forward to Bennett's next book!
---
If you're interested in more reading recommendations, check out the top five best books I read this summer!